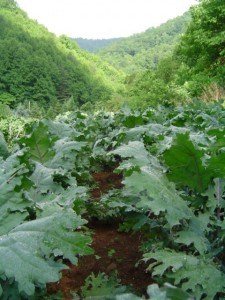 Established in 1977, we're a family farm currently growing five acres of mixed seasonal vegetables and Fraser Fir Christmas trees. USDA Certified Organic from 1997 to 2013,  we've opted out of organic certification but are dedicated organic farmers, growing our vegetables and Christmas trees according to certified organic standards. We begin our harvest season in March, with one of our specialty crops, watercress, and end our season with  greenery items made from cuttings from our standing Fraser Fir trees.
We sell some of  our vegetables to restaurants, groceries and food coops in Asheville, NC.  You can also find us every Saturday from May-October at the Jonesborough, TN Farmers Market, and our seasonal vegetables are also offered at the Boone Street Market in Jonesborough.
We hope you'll explore our website, join the mailing list, and send us your feedback!  Of course, please let us know if you have any questions.